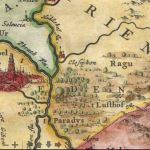 We were already different–our apartment filled with Old World furniture, dim landscape prints, china that never was served. The accents of my parents. My father in his formal, threadbare jacket, with his fine manners and esoteric knowledge. My mother . . . I try to get her in focus. She slips in and out of view.
The only foreigners on our Chicago street.
Maybe what happened was of a piece with all the other differences. We were doomed, and trying to escape our fate, but it caught up with us. We had run. If only we could hide.
♦   ♦   ♦
We had come from other places, which I never saw or could barely remember.
We had brought our furniture with us, dark pieces too ornate for a Chicago apartment, and set them down in the living room holding down the edges of the frayed Oriental rug.  In the marble-topped buffet with Adam and Eve carved on the doors were stacked the gold-trimmed dishes that weren't, in our day, taken out even for Passover, because we didn't celebrate Passover.  In the rosewood bureau with curved-front drawers that stuck opening and closing were linens too large for any table we owned or any gathering of the few people we knew or got to know, stiff damask watermarked with flowers or inset with lace.
In one corner of the living room my father's desk and bookcase made an L, the desk against the wall with a tiny window above and the bookcase meeting it.  Opposite this L stood his armchair, where he settled in the evening after supper to read the newspaper and his medical texts and journals.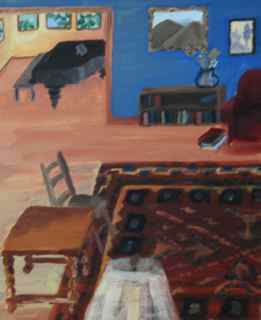 The arm chair faced into the room across from the couch.  When company came, they might sit on this chair, though we never did.  It was my father's.
His desk was piled high with papers and journals.  You couldn't see the surface.
In the top center drawer my father kept the long, thin scissors he used to clip articles from The New York Times, which he filed inside book covers, on shelves, in desk drawers, wherever they fit, according to his own scheme of classification: temperature records and ball scores, the lives of the monarchs, the deaths of people he remembered from another time.  We were allowed to open that one drawer, where he kept the scissors and stamps, three-cent stamps they were then, in case we needed to mail a letter.  We were allowed to use the scissors, but only to cut paper.  They were paper scissors.
We had our old furniture from England and Germany before that and new things that mostly were cheap and already wearing though they were much newer.  We had books, rows of Gibbon and Churchill, bursting with clippings, and The Story of Mathematics and the Brockhaus Encyclopedia, my father's prized possession, published in Berlin c. 1910, the year he was born.
My father had books in German which he was able to decipher and medical books with frightening pictures and scientific books filled with equations and histories of thin dense pages which I couldn't read, even the ones in English.  Maps were in some of them–the Brockhaus and the Historische Schul-Atlas and the enormous blue book sitting just at the end of the Brockhaus, filling out the row, spoiling the symmetry. The Atlas of the Holy Land showed David slaying Goliath and Moses receiving the tablets of the law. An inset depicts Adam and Eve in the Garden of Eden, under a spreading tree.
♦   ♦   ♦
My father would pull the Schul-Atlas off the shelf and open it on the coffee table that stood in front of the couch.
I knew without my father telling me to keep my shoes off of the upholstery, but I knew he would remind me.  The couch was green brocade, with a tall back, a carved frame, and threadbare armrests.  It stood high off the floor and was firm to sit on.  In my grandparents' apartment in Berlin, guests in formal clothes had perched on it stiffly, sipping after-dinner brandies.
"We won't get another one like it," my father said.
In the Schul-Atlas we followed Alexander the Great and Hannibal, the Visigoths and Vandals, the Tatars and the Ottoman Turks. Out of the Fertile Crescent they came, across the mountains of Europe, the steppes of Russia, wave after wave, expanding, shifting, the outline changing from one map to the next.  Nomads and searchers, armies crossing whole continents and more.  Amazing migrations over thousands of miles, on foot, on horseback, on camel, soldiers carrying swords and women with babies wrapped against their backs, cooking pots and bedding too.  How did they know where they were going?
And when they arrived, did they discover they had left something behind, something irretrievable?  Was the earth too black, or too sandy, the trees too towering, with oddly shaped leaves, and birds singing a strange song?  Perhaps they no longer remembered where they had come from, perhaps not they but only their parents or grandparents had been there.  Did they still carry some image that would never again be seen, some yearning that would never be fulfilled?