Friedrich knew a lodge high up in the mountains, among the wildflowers.  It was like the Alps, maybe even more beautiful.  A car would take us.
I had special new clothes–blue jeans that were too big for me, rolled up wide at the cuffs, and a flannel shirt that looked like a cowboy's.  I would have to wear my brown oxfords, which my father said were the only decent shoes in America.  Did I want the rattlesnakes to get me?
My father had brought his hiking boots, which he'd last worn climbing the Jungfrau, in 1932.  "It was threatening rain," he told us, "and we made it in record time."
"What's the record?" Robbie asked.
"Not an official record, you see," my father said.  "Only very fast."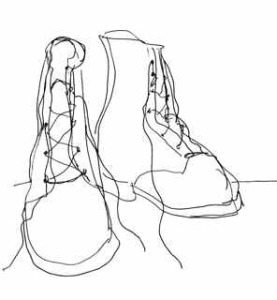 But on the day, instead of us all going to the mountains, my father and mother went out early.  They left before Robbie and I were up, and didn't come back until late.
When they returned my mother lay down in my grandparents' room, because my parents' bed was the living room couch.   
In the evening my father asked whether we would lose our deposit at the lodge, and was the car company going to charge us too?  He spoke of tests, delays, which day we might go, how long we could stay.  He studied the calendar, folded and unfolded a map.
"Eric," my grandfather said, "these are only details."
"We made plans months ago," my father replied.   
My mother said, "You go, I'm too much trouble," but my father replied, "Nonsense."  Still, he didn't stop discussing the arrangements.
When the phone call came, my father put the receiver down satisfied.
"Everything's fine," he told Friedrich.  "Negative, Eve.  Negative."
"What's 'negative'?" I asked.
"Nothing," my father said.
By then it was too late for our expedition, we had return tickets on the train.
♦   ♦   ♦
My mother was quiet, staring out of the train window.   
"You will come back and see the mountains," she said.