My poetry chapbook, Psalms for a Child Who Has Lost Her Mother, is off the press! How exciting to see it:  not a mockup, not a proof–the real thing.
It's beautiful. The colors, the paper, the feel, are perfect. People like to pick it up (me too!).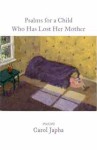 Thank you, Finishing Line Press! Thank you for taking chances on unknown writers, and producing such a fine-looking book.
The galleys had already thrilled me. As an editor I've read hundreds of proofs. But not with my name on them!
I'm starting to get responses from readers. I am profoundly moved to know that my words have touched people. It's like some kind of energy flowing into the words, onto the page, to the reader, and out again. Something intangible yet real. The thoughts and feelings I've tried to capture. A spark they throw off–at least some of them, at some times, to some readers. Some magic about the creative process that I sort of believe in. Nothing supernatural, but mysterious, magical, still.
Several of the poems had been posted on this site, where some of you, gentle readers, have expressed wonderfully supportive comments. Some I had read to small gatherings of friends. The manuscript was read and critiqued by a few generous and constructive friends, colleagues, and fellow writers–though any errors, as they say, are purely my own!
For years I've been working on a novel, and somehow in the midst of that I sat down and some poems came out. As if I was hearing a voice, somehow.  I edited and refined them, got feedback, knitted them into a manuscript that, I hope, tells a story. But I didn't lay it out beforehand, and I edited them minimally–for me, who tends to continually revise into umpteen drafts.
Where did this writing come from, and where is it going? It's no coincidence that I'm writing about something that I was forbidden to know, learn, ask about, talk about. That became, through all that, not mine. Not my own possession. My own experience.
One day finally I started searching, and the discoveries are never-ending. The quest will never be done. The understanding will never be complete. But each word is a tiny step along the way.
My heartfelt gratitude to those walking along with me.