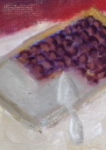 My grandparents lived in an apartment above a grocery store that was stuffed with pieces of furniture they had brought from Europe, just as we had brought ours.  Our apartment was next to a grocery store, too, the backyard facing the alley and the rear entrance of the Kroger's.  That was a supermarket, though.  Their apartment was smaller than ours, more cramped with dark armoires, flowery armchairs, and tables covered with lace cloths.
Friedrich stood straight-backed and wore a suit and tie.  The smooth pink dome of his head reflected the light.  With a great beak of a nose, he looked like one of the eagles my father said we might see when we went up to the mountains.  We would have to look hard.  We had packed opera glasses.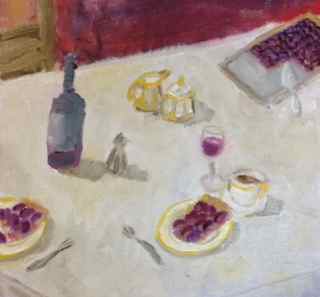 The grandmother with Friedrich was named Minna.  She was small and dark-haired, which seemed odd.  She asked a lot of questions, not all of which I could understand, and didn't listen for the answers.  She patted my father on the back, which I had never seen anyone do.  He pretended she wasn't.
Minna kept the curtains drawn, heavy curtains they were against the bright harsh mountain sun, to prevent the carpets and upholstery from fading any more than they had already.  My grandmother moved around the apartment quietly, behind the curtains.  You needed to be quiet in grandparents' apartment.
My grandmother Minna spoke to my grandfather in German and wouldn't let anyone enter the tiny kitchen, where she distractedly prepared our lunch–-dinner she called it, the main meal, served from paper-thin china.  She brought out the serving dishes, each with its lid, and grandfather served.
"Minna, how much trouble have you gone to," my mother said.
"Not at all," said Minna, not seeming to mean it.
My grandmother had baked a plumcake because we had come such a long way and it was so unusual to see us.  Rows of plum slices ran lengthwise on the cake, deep red and glistening with juices released by the sugar and the baking.  It was tart and sweet at the same time.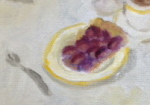 Minna ran a long silver knife between the rows, then sliced across, delicately lifted each small square with a pearl-handled spatula and placed it on a plate.   She served Friedrich first and then my father, passing small silver cake forks, but Friedrich passed his piece to my mother saying, with a mock American accent, "Ladies first."  Robbie ate the crust but left the plums on the plate.  I finished my piece and wanted more.  Prune plums ripen at the end of summer.
♦   ♦   ♦
Friedrich had been wounded in the war, not the war my parents sometimes talked about but the one before that.  He was in the medical corps and operating, in a tent just behind the lines, when a stray bullet pierced his thigh.  While recovering from his wounds, which were superficial but slow to mend, Friedrich watched men injured much more seriously than he was, bandaged, hobbling on crutches or with clumsy wooden legs.  He considered the problem of how to repair the terrible maimings that were commonplace in trench warfare.  With pen and ink he began to put the men back together, with lighter, more graceful limbs.  When he was discharged Friedrich returned to his practice with designs for new kinds of prostheses that, with an old school chum who owned a machine-tool factory, he began to manufacture out of materials invented for airplanes.  Friedrich expanded his medical practice to treat some of the war's many, many wounded men and hired two nurses to show them how to attach and remove their new limbs and exercises to become adept in their use.
My grandfather used to take my father down to his office, on the ground floor of their apartment building, and show him the limbs he fitted for his patients.  My father wanted to know what happened to their regular legs, and how much blood was shed.  The prescription pad my grandfather gave him my father used to work out mathematical problems he thought up in the afternoons after finishing his homework—like how much air there was in their apartment or the number of leaves on the beech tree in the backyard.  My father learned the language of numbers even before his native tongue, which was German and turned against him, so maybe he was right. My father wanted to study mathematics at university, but my grandfather didn't believe he could make a living as a mathematician and insisted he study medicine instead.  In my father's specialty he did not see blood and, rather than wielding a scalpel, he calculated dosages with extravagant precision and blasted x-rays into aberrant cells.