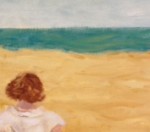 In the summer we played on Magnolia, me and my friends, Ginger next door and Molly from across the street, and Charlotte, who lived down Broadway.  Broadway was a wide commercial avenue with streetcars and traffic.
The mothers sat on our top step, watching as we played hopscotch and Simon Says and Red Rover, Cross Over on the sidewalk in front of our building or next door at Ginger's.
  My mother wouldn't come out in slippers, the mules she wore around the house, but in yellow straw sandals with wedge heels, the coolest shoes she had.  It was hot in Chicago, she hadn't expected it.  Her housedress she didn't change but she wouldn't let people see her in slippers.
Leila, Ginger's mother, came out and sat with my mother, then my mother would go over to their steps, not a stoop really, because it was a regular house.  Leila didn't wear housedresses, and her hair was always perfectly combed.
Some days my mother stuffed towels and sandwiches into a brown checked bag and we walked to the beach, usually the one at the end of Thorndale, which was tucked between buildings.  Sometimes we went along Sheridan Road which followed the lake a few more blocks to Hollywood, where the sand was wider and the lifeguard sat at the top of a tall white tower.  It was a long walk I thought and hard for me to keep up.  Robbie's friends were at Hollywood and it was my fault, my slowness and tiredness and my legs that would not carry me, when we didn't get that far.
Hollywood was better if I could make it, because Robbie went off to play ball with his friends and race them into the water.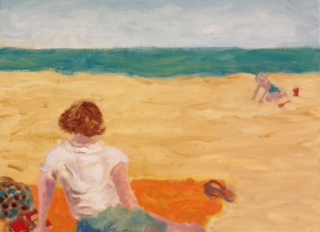 My mother pulled an old orange blanket out of her bag and handed me a corner of it. I grabbed the ravelly edge and helped her pull this way and that till it lay smooth over the sand.  We put our shoes on the four corners to hold it down.
She lay down on the blanket, propping herself on some folded towels, a book in her hands.  "Let me see you swim," she said, as I stepped through the sand to the water.  The sand shifted under my feet, squirted up between my toes.  Sometimes it was hot, too hot, and I had to step fast to get to the cool part where the waves came up.
The water lapped in, splashing high against my legs.  It was too cold, she thought, but she watched me.  I looked back at her as I went deeper, got wet.  I pretended to swim, watching other kids who did.  I paddled but sank, had to put my feet down, went up on tiptoes as a wave came, liked the feel of it, cool.
On weekends sometimes my father came with us, but he hated the sand in things and the flies that came.  He carried canvas chairs for him and my mother and she stretched out, easy, warming her feet in the sand.  We had to keep smoothing the blanket and not bother him when he was reading.  He was allergic to the cold water, it gave him hives, and the lake was icy, though I didn't mind.  He told me about the shells and stones I found.
Sometimes I saw my mother staring way off into the distance, farther even than across the lake–which you couldn't see anyway, not across Lake Michigan, it's like the ocean.